Sinus infection treatment
Diagnosing a sinus infection shouldn't be a DIY project. Carbon Health is here to help. Talk to a doctor online or book an appointment at one of our clinics near you today.
Pick Appointment Time
Virtual care has never been easier
Answer a few questions
Help us collect the most relevant info about your symptoms in minutes.
Chat with our friendly providers
They'll talk you through your concerns, prescribe any medications, and make outside referrals, if necessary.
Med pick-up made easy
Get your medications sent straight to your pharmacy or to your door—whatever works for you!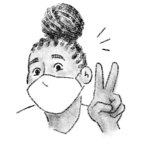 Continuous care after your visit
Your provider will contact you directly about any follow-up appointments, exams, or tests.
Pick Appointment Time
Common Sinus Infection symptoms & treatment
A sinus infection is when your nasal passages become inflamed or infected and is commonly caused by allergies or the common cold.
Pick Appointment Time
sinus infection symptoms
Nasal inflammation

Thick, discolored discharge from the nose

Runny, stuffy nose

Drainage down the back of the throat

Difficulty breathing through the nose

Pressure behind the eyes, cheeks, nose, or forehead

Sore throat
How To Treat A Sinus Infection
Book a virtual visit to talk with a healthcare provider about your sinus infection symptoms and concerns. They will ask you a series of questions, prescribe the necessary medications, and refer you to the nearest Carbon Health clinic for in-person examinations and testing if necessary.
Get treated right from your phone.
Available in the App Store and Google Play
Book same-day appointments

Talk to a provider in real time

Get care from the comfort of home

Most insurance accepted
We're movin' in!
Modern clinics, designed from the ground up, with patient experience in mind. Check out our new locations.
Don't just take our
word for it.
You can read thousands of reviews
of our iOS and Android apps.
It's all about being proactive and regularly booking an appointment with @carbonhealth to make sure I'm taking care of myself.
When I heard about @carbonhealth, I felt like it was basically created for busy mamas like me.
Thanks to @carbonhealth, I'm actively keeping my health in check while entering a new age of transparent, conventient, comfortable, and tech-enabled virtual healthcare.
If anyone needs some outside help, I'd suggest that you may want to check out @carbonhealth.
Simplified Billing
We accept all major insurance plans.
Just scan your insurance card and then you're all set.
Get Started Now
Allergies
Cold & flu
Headaches
STD & STI
UTI
Sinus Infection
Sore Throat
Respiratory infections
Skin rashes & moles
Sports injuries
Travel health
Upset stomach
FREQUENTLY ASKED QUESTIONS
How can we help you?
What is the fastest way to get rid of a sinus infection?
Can you get rid of a sinus infection without antibiotics?
Are there specific sinus infection causes?
How long does a sinus infection typically last?
What's the difference between a cold and sinus infection?
How does Carbon Health virtual care work?
What if you can't give me a treatment plan or need to see me in person?
Are you able to prescribe medication and antibiotics?