Sinus infection treatment
Diagnosing a sinus infection shouldn't be a DIY project. Carbon Health is here to help. Talk to a doctor online or book an appointment at one of our clinics near you today.
Pick Appointment Time
Virtual care has never been easier
Answer a few questions
Help us collect the most relevant info about your symptoms in minutes.
Chat with our friendly providers
They'll talk you through your concerns, prescribe any medications, and make outside referrals, if necessary.
Med pick-up made easy
Get your medications sent straight to your pharmacy or to your door—whatever works for you!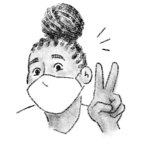 Continuous care after your visit
Your provider will contact you directly about any follow-up appointments, exams, or tests.
Pick Appointment Time
Common Sinus Infection symptoms & treatment
A sinus infection is when your nasal passages become inflamed or infected and is commonly caused by allergies or the common cold.
Pick Appointment Time
sinus infection symptoms
Nasal inflammation

Thick, discolored discharge from the nose

Runny, stuffy nose

Drainage down the back of the throat

Difficulty breathing through the nose

Pressure behind the eyes, cheeks, nose, or forehead

Sore throat
How To Treat A Sinus Infection
Book a virtual visit to talk with a healthcare provider about your sinus infection symptoms and concerns. They will ask you a series of questions, prescribe the necessary medications, and refer you to the nearest Carbon Health clinic for in-person examinations and testing if necessary.
Get treated right from your phone.
Available in the App Store and Google Play
Book same-day appointments

Talk to a provider in real time

Get care from the comfort of home

Most insurance accepted
We're movin' in!
Modern clinics, designed from the ground up, with patient experience in mind. Check out our new locations.
Don't just take our
word for it.
You can read thousands of reviews
of our iOS and Android apps.
It's all about being proactive and regularly booking an appointment with @carbonhealth to make sure I'm taking care of myself.
When I heard about @carbonhealth, I felt like it was basically created for busy mamas like me.
Thanks to @carbonhealth, I'm actively keeping my health in check while entering a new age of transparent, conventient, comfortable, and tech-enabled virtual healthcare.
If anyone needs some outside help, I'd suggest that you may want to check out @carbonhealth.
Simplified Billing
We accept all major insurance plans.
Just scan your insurance card and then you're all set.
Get Started Now
Allergies
Cold & flu
Headaches
STD & STI
UTI
Sinus Infection
Sore Throat
Respiratory infections
Skin rashes & moles
Sports injuries
Travel health
Upset stomach
FREQUENTLY ASKED QUESTIONS
How can we help you?
What is the fastest way to get rid of a sinus infection?
Most of the care involves symptom management. We recommend taking over the counter pain medications such as Tylenol or NSAIDs to reduce pain. Mucolytics such as Guaifenesin can be used to help thin the mucous and oral decongestants may also be recommended.
Other tips:
Rinse your nose and sinuses a few times a day (i.e. neti pot).
Consider using a humidifier or stand in a hot shower to help loosen up the congestion.
Consider taking an antihistamine to decrease mucous.
Your provider may also recommend nasal sprays (i.e. nasal sprays may include steroids, antihistamines, decongestants, saline, ipratropium bromide).
Can you get rid of a sinus infection without antibiotics?
The vast majority of the time sinus infections do not require antibiotics since they are caused by viruses and not bacteria. Antibiotics only work for bacteria. The concern about overprescribing antibiotics for viral infections is that a person can build up resistant strains of bacteria in their body and then the traditional antibiotics will no longer work when you have a true bacterial infection. The good news is your body is well equipped to fight off viruses, even in your sinuses.
There are some cases where sinus infections are caused by bacteria and merit antibiotic use. If you experience symptoms beyond 7-10 days with fevers and a lot of pain then your provider may consider antibiotics. Also, if your symptoms have been improving but you suddenly experience a worsening of symptoms or develop new symptoms, this may also be a sign of a possible new bacterial process or complication.
Are there specific sinus infection causes?
The vast majority of acute sinus infections are caused by common viruses found in the environment.
Bacterial acute sinusitis only occurs in 0.5-2% of cases. The most common bacteria that cause sinusitis arestreptococcus pneumoniae, Haemophilus influenzae and Moraxella catarrhalis.
How long does a sinus infection typically last?
Sinus infections typically last less than 4 weeks and begin to improve by 7-10 days on average.
What's the difference between a cold and sinus infection?
Symptoms can be similar and certain viruses can cause the common cold and sinus inflammation. The key difference is whether the sinuses get inflamed. While patients with the common cold may also experience sneezing and a runny nose, they typically do not have facial pain. In addition, a sore throat or cough are more commonly associated with the common cold.
How does Carbon Health virtual care work?
At the time of visit, be sure you're logged in to your Carbon Health account. Your provider can call you from the Carbon Health
desktop site
or mobile app for
iOS
or
Android
.
After introducing themselves, they'll confirm and review the information submitted during the appointment booking. This will include your chief complaint, symptoms selected, and some overall questions about your current health.
The provider will then create a unique care plan based on your conversation and diagnosis, and send it to you through the app.
Summarizes what was discussed
Lays out next steps for care or treatment
Often provides relevant educational materials
May include a link for booking an appointment at clinic near you if needed
Includes any prescriptions listed under your care plan, with a convenient 'Fill' button next to the list, so you can select your preferred pharmacy.
What if you can't give me a treatment plan or need to see me in person?
We won't charge you for this virtual appointment.
Are you able to prescribe medication and antibiotics?
Yes. If medication is necessary, your prescription will be sent to the pharmacy of your choice immediately after your appointment. Pharmacies usually take about two hours to fill a prescription. We also work with pharmacies that have same-day delivery options.