Sore throat treatment
Are you suffering from a sore throat or something more serious? From home remedies to antibiotics, get the care you need with treatment today.
Pick Appointment Time
Virtual care has never been easier
Answer a few questions
Help us collect the most relevant info about your symptoms in minutes.
Chat with our friendly providers
They'll talk you through your concerns, prescribe any medications, and make outside referrals, if necessary.
Med pick-up made easy
Get your medications sent straight to your pharmacy or to your door—whatever works for you!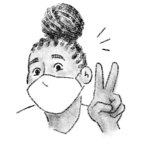 Continuous care after your visit
Your provider will contact you directly about any follow-up appointments, exams, or tests.
Pick Appointment Time
Common sore throat symptoms & treatment
Finding it painful to swallow? This common condition can occur for a variety of reasons including air pollution, smoking, or straining your vocal cords. Notice swollen lymph nodes or tiny, red spots on the roof of your mouth? It might be something more serious like strep throat. Strep throat is a bacterial infection transmitted when you come in contact with someone else who already has it. It usually goes away in a few days or weeks and is easily treated with antibiotics.
Pick Appointment Time
sore throat symptoms
Pain when swallowing

Scratchy, burning, irritated sensation in throat

Tiny, red spots on the roof of the mouth

Fever

Swollen lymph nodes in the neck
HOW TO TREAT A SORE THROAT
Try drinking hot fluids or taking nonprescription medications like lozenges to help soothe your throat. Not working? Book a virtual visit with a provider to see if it's something more serious like strep throat.
Get treated right from your phone.
Available in the App Store and Google Play
Book same-day appointments

Talk to a provider in real time

Get care from the comfort of home

Most insurance accepted
We're movin' in!
Modern clinics, designed from the ground up, with patient experience in mind. Check out our new locations.
Don't just take our
word for it.
You can read thousands of reviews
of our iOS and Android apps.
It's all about being proactive and regularly booking an appointment with @carbonhealth to make sure I'm taking care of myself.
When I heard about @carbonhealth, I felt like it was basically created for busy mamas like me.
Thanks to @carbonhealth, I'm actively keeping my health in check while entering a new age of transparent, conventient, comfortable, and tech-enabled virtual healthcare.
If anyone needs some outside help, I'd suggest that you may want to check out @carbonhealth.
Simplified Billing
We accept all major insurance plans.
Just scan your insurance card and then you're all set.
Get Started Now
Allergies
Cold & flu
Headaches
STD & STI
UTI
Sore Throat
Sinus Infection
Respiratory infections
Skin rashes & moles
Sports injuries
Travel health
Upset stomach
FREQUENTLY ASKED QUESTIONS
How can we help you?
What if you can't give me a treatment plan or need to see me in person?
We won't charge you for this virtual appointment.
How soon will I get my medication?
Your prescription will be ready to be filled immediately after your visit. Pharmacies usually take approximately two hours to fill a prescription. We also work with pharmacies that deliver prescriptions the same day.
How does Carbon Health virtual care work?
At the time of visit, be sure you're logged in to your Carbon Health account. Your provider can call you from the Carbon Health
desktop site
or mobile app for
iOS
or
Android
.
After introducing themselves, they'll confirm and review the information submitted during the appointment booking. This will include your chief complaint, symptoms selected, and some overall questions about your current health.
The provider will then create a unique care plan based on your conversation and diagnosis, and send it to you through the app.
Summarizes what was discussed
Lays out next steps for care or treatment
Often provides relevant educational materials
May include a link for booking an appointment at clinic near you if needed
Includes any prescriptions listed under your care plan, with a convenient 'Fill' button next to the list, so you can select your preferred pharmacy.
What if I need to go in for an in-person appointment?
You can schedule your in-person appointment via the Carbon Health desktop site or mobile app for iOS or for Android or work directly with your virtual provider during your visit. If our clinicians are unable to help you during your virtual visit because an in-person visit is needed, we will not charge you for your virtual visit.
How does virtual care work?
What you need to get started:
Your insurance card
Your ID
Your smartphone or desktop computer
Schedule your appointment in these easy steps.Step 1:
Download the Carbon Health app for IOS or Android.
Step 2:
Open the app and click "Get Care."
Then, choose from the following options:
Urgent Care
Primary Care
Pediatrics
Mental Health
Step 3:
Select your condition from the menu or search for your specific symptom.
Step 4:
Choose your appointment time.
Quick Tip:
Virtual care appointments can be made up to 10 minutes prior to the start of your virtual visit. Just be sure you complete your registration information before your appointment time, or your appointment will be rescheduled.
Step 5:
Create your account if you haven't already. If you already have an account, select an option for how you'd like to pay for your visit using insurance or with a credit card.
Step 6:
Read over and sign the 'Consent to Treat' form.
Step 7:
Confirm your appointment details. Once confirmed, you'll answer a few questions from our team to give them more background on your specific health issue.
Is the Carbon Health app secure?
The Carbon Health apps make use of the latest developments in security architectures for both the Apple and Android platforms. The Carbon Health application is made available through the official Apple and Google Play stores. These steps ensure that the application is safely and securely installed and never tampered with.