Walk in.
Feel better.
Smart, hassle-free urgent care
Types of payment accepted
Treatments and Services
At Carbon Health Care, we offer treatments and services for a number of appointment reasons in the following urgent care categories.
Injuries

Illnesses & Infections

Physical Exams

Labs & X-Rays

Family Medicine & Pediatric Care

Vaccinations & Immunizations

Occupational Medicine

Sports Medicine
When to visit: Urgent Care vs. ER
What is Urgent Care?
Urgent care is immediate medical attention for a variety of non-life-threatening conditions and other general medical needs that arise in unforeseen situations.
Carbon Health Care is the perfect option when you need care on short notice and don't want to deal with ER wait times and costs.
Average visit time:
> 1 hour
Common Conditions We Treat
Abdominal pain

Asthma

Back pain

Cold / flu symptoms

Concussion

Red Eye/Conjunctivitis

Cut

Allergy Symptoms

Flu Shot

Contraception

Injury

Poison Ivy/Poison Oak
What is Emergency Care?
An emergency condition is a life-threatening condition that may require advanced treatment, such as a heart attack or stroke, a serious head injury, or other severe trauma.
If you have a life threatening injury or illness, immediately call 911 or proceed to your nearest Emergency Room.
Average visit time:
> 4.5 hours
Emergency Conditions
Altered Mental States
Seizures
Chest Pain or Pressure
Severe Abdominal Pain
Coughing/Vomiting Blood
Severe Allergic Reactions
Difficulty Breathing
Severe Bleeding
Drug Overdose/Poisoning
Severe Head/Spinal Injury
Loss of Vision
Pregnancy-related issues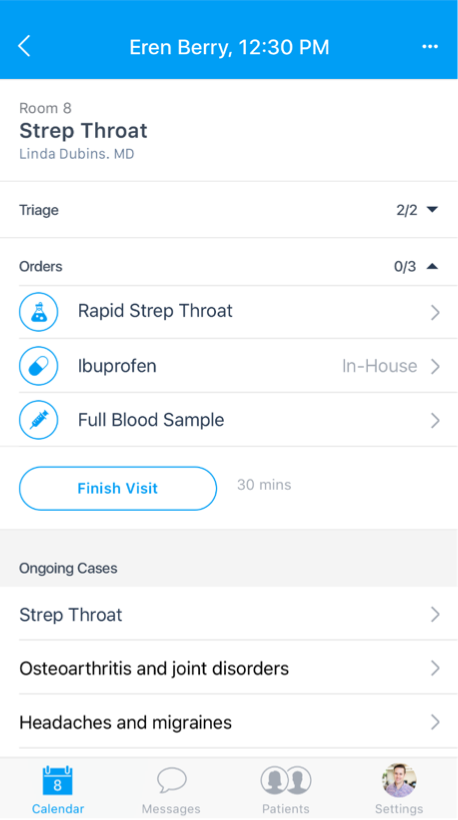 Fully integrated, comprehensive care 💪
Chat

Chat with doctors and staff for quick answers to your questions.

Calendar

Schedule a clinic visit or chat with doctors through the app.

Prescription delivery

Skip the pharmacy visit. Fill prescriptions easier than ever.

Billing

Transparent pricing. Upfront copays without hidden fees.
What other patients are saying
I have to rave about my experience with ALL of the staff here, from the receptionist to the medical technicians and physician assistants. They were all extremely helpful and knowledgeable and responsive.

Very impressed on how kind and competent everybody was. Their use of technology (appointment reminder, registration, payment, prescription, follow-up with physician, all via the Carbon phone app). Highly recommended, I wish they were not limited to urgent care and also had PCP services.

Keeley M.

San Francisco, CA

Easiest, fastest, most streamlined process I have ever had with urgent care. The app portal allowed me to enter all my info on the way there, probably waited a grand total of 10 min to see a doctor, including check in. Highly recommend.

Sarina G.

Mountain View, CA

This was the easiest and fastest urgent care experience I have ever had! They use an app for scheduling and insurance and even billing! I did not have to fill out any long forms, all my information came from my insurance. The PA Megan was wonderful and I even left there with my meds in hand. I did not have to go to a separate pharmacy! This is the best urgent care I have ever been to. You can even make an appointment online and avoid any wait.

Oh my! This place is the best. I was in and out within an hour. I suspected that I had strep but of course I am no doctor. I had to get a throat culture which I explained I am the worse. They said no problem we have an expert.. he came in and was done in seconds. Very detailed oriented. You are constantly told the exact wait times and what you are waiting for. I left with a prescription and they told me all pharmacy's were closed except in Alameda. What a great place to be sick!

Colette K.

San Francisco, CA

I really enjoy using Direct Urgent Care. It is a total contrast from urgent cares I have been to in the past where no one in the clinic moves with urgency and half the city has an "urgent" matter that needs to be taken care of. I have been to Direct Urgent Care twice and not only do I appreciate the incorporation of iPads and online appointment booking, but they actually know how to use them to make the process more efficient!

I've been going to Direct Urgent Care for a few years now. I know they are not supposed to be your PCP, but I always end up needing to be in urgent care. On average, I make a stop once/year. This was my first time at this location. I noticed that even when they don't pick up their phones, they call you back immediately.

Lauren H.

Mountain View, CA

This place is an absolute gem. I have had a few sketchy experiences at various urgent care clinics, so I was not excited to go, but I could not have had a better experience at Direct Urgent Care. The entire experience exceeded my expectations and was seamless from start to finish. The app is exceptional, even by silicon valley standards; the office was clean; and the staff was warm and professional.

Waiting room is very clean and modern! Jane was more than amazing! She was very kind, and very professional. I went in anticipating a small, easily fixable diagnosis. However, Jane was a bit concerned that it could potentially be something bigger, and had me go to the ER, just to be safe. And I am glad she did. I would definitely come back here again if I had any urgent care needs. And I definitely recommend coming here if you need them!
We're in the press