Walk in.
Feel better.
Smart, hassle-free urgent care
Types of payment accepted
Treatments and Services
At Carbon Health Care, we offer treatments and services for a number of appointment reasons in the following urgent care categories.
Injuries

Illnesses & Infections

Physical Exams

Labs & X-Rays

Family Medicine & Pediatric Care

Vaccinations & Immunizations

Occupational Medicine

Sports Medicine
When to visit: Urgent Care vs. ER
What is Urgent Care?
Urgent care is immediate medical attention for a variety of non-life-threatening conditions and other general medical needs that arise in unforeseen situations.
Carbon Health Care is the perfect option when you need care on short notice and don't want to deal with ER wait times and costs.
Average visit time:
> 1 hour
Common Conditions We Treat
Abdominal pain

Asthma

Back pain

Cold / flu symptoms

Concussion

Red Eye/Conjunctivitis

Cut

Allergy Symptoms

Flu Shot

Contraception

Injury

Poison Ivy/Poison Oak
What is Emergency Care?
An emergency condition is a life-threatening condition that may require advanced treatment, such as a heart attack or stroke, a serious head injury, or other severe trauma.
If you have a life threatening injury or illness, immediately call 911 or proceed to your nearest Emergency Room.
Average visit time:
> 4.5 hours
Emergency Conditions
Altered Mental States
Seizures
Chest Pain or Pressure
Severe Abdominal Pain
Coughing/Vomiting Blood
Severe Allergic Reactions
Difficulty Breathing
Severe Bleeding
Drug Overdose/Poisoning
Severe Head/Spinal Injury
Loss of Vision
Pregnancy-related issues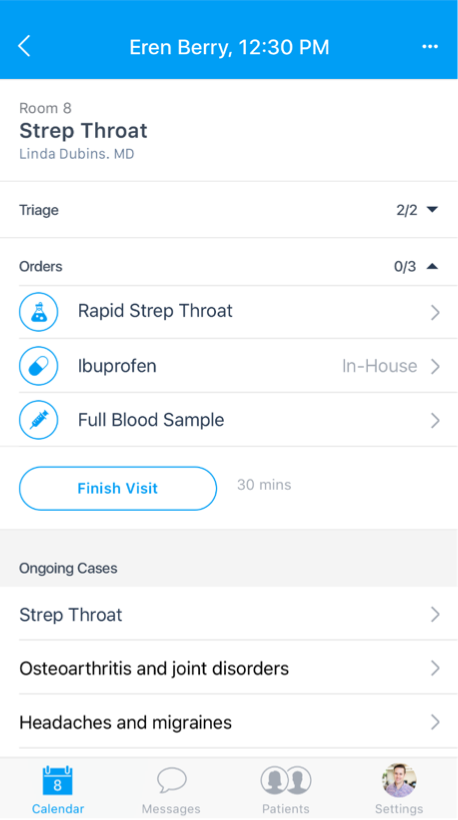 Fully integrated, comprehensive care 💪
Chat

Chat with doctors and staff for quick answers to your questions.

Calendar

Schedule a clinic visit or chat with doctors through the app.

Prescription delivery

Skip the pharmacy visit. Fill prescriptions easier than ever.

Billing

Transparent pricing. Upfront copays without hidden fees.
What other patients are saying
I am blown away. Everything about this urgent care was exemplary. I broke my nose, and everything from signing in, to seeing the nurse and PA, was streamlined and I am grateful for and impressed with the level of care they provided. I'll definitely be back if another disaster arises!

I came in for a cut after a biking accident and everyone was super friendly and helpful. I got the wound cleaned up, bandaged, and had a tetanus shot just to be safe. I really appreciate that the clinic was open until 8pm on weekends because we don't choose when we get hurt!

It's awful to be sick and sitting in a doctors waiting room for a couple hours makes it worse. Luckily direct urgent care was the polar opposite offering WiFi, coffee, an awesome app and zero wait. From the friendly and smooth checkin process with Rebecca, to the speedy diagnosis and prescription pickup from Lisa and her team, a doctor visit couldn't be any better. I can't recommend this place enough. Thank you all.

I wish every exchange with health care was this easy. Filled out the app on my own time prior to arriving so no paperwork to fill out. No wait time. Clean and inviting waiting rooms and treatment rooms. Warm, professional staff and quick diagnosis! Thank you for making the process comfortable in today's mess of a health care system.

Best urgent care experience I've had. You can make an appointment online ahead of time. With the appointment I didn't have to wait long at all. The practitioner was great good communication. Also they had the prescription right there at a reasonable price so saved me a trip to the pharmacy.

I had an allergic reaction and needed care ASAP. From the moment I stepped into the office to the moment I left I was satisfied (despite what was going on in my body!) The nurse assistant very kind and thorough and the NP, LaShunda Phillips was as good as it gets. If I am ever in a medical bind again this will be my first stop. Thank you!

Steven N.

San Francisco, CA

Mrs. Esther J Crane helped me navigate a situation regarding PrEP. She embodies intelligence, grace, but more importantly, I trust her (and I have a hard time trusting people). I would follow her to whatever practice she goes.

Today was my second visit to the Berkeley office. They are extremely helpful, fast but thorough, and seem to really care about their patients. Their staff from from the front desk up to the medical professionals has been fantastic both visits. Thank you again for your great career

Tracy H.

Mountain View, CA

I had to go to urgent care last weekend for a minor kitchen accident (clumsy me) and it was not the nightmare that I expected it to be. I've been to other urgent cares in the past (in a different state) and they were all complete nightmares. This office was actually (do I dare say) pleasant and the staff made a dreaded visit tolerable. They must see so much sickness and other stuff on a daily basis so I appreciated that they were able to still be in good spirits. I got treated quickly and left feeling very taken care of. Thanks guys!

Easy peasy! I looked up urgent care at the advice of a friend, found this one in the area, and registered online. I did the whole thing on my phone, it was quick and saved me time once I got to the office. They were friendly, efficient, organized and timely without being overly rushed. All my concerns were addressed, they offered me a treatment I hadn't thought of, and I left with a prescription already sent to my pharmacy. They take most insurance, have same-day appointments, and welcome walk-ins. Afterwards, they followed up with me several times via message on their app, and were quickly responsive to my questions. Overall an excellent experience. I sent my husband there a week later and he also had a great experience.

I have been here twice for a problem that was not serious but needed to be dealt with that day. I've loved everything about it, the computerized recordkeeping, the friendliness and helpfulness of the staff, and the effectiveness of the PA who saw me. Fortunately for me, my insurance covered it, and I happened to need them when it wasn't too busy. I love that you can make an appointment online.

Victoria B.

Los Angeles, CA

Such a great experience from the moment I walked in the door. The place is clean, efficient, and even has some prescriptions in office. My visit was without insurance and I found it affordable and fast. You can make an apt ahead of time or walk in like I did. 10 minutes wait, I checked in on an upload and explained my symptoms. I saw a nurse practitioner who was knowledgeable and had great bed side manner. Would definitely recommend!
We're in the press