Treatments and Services
At Carbon Health Care, we offer treatments and services for a number of appointment reasons in the following urgent care categories.
Injuries

Illnesses & Infections

Physical Exams

Labs & X-Rays

Family Medicine & Pediatric Care

Vaccinations & Immunizations

Occupational Medicine

Sports Medicine
When to visit: Urgent Care vs. ER
What is Urgent Care?
Urgent care is immediate medical attention for a variety of non-life-threatening conditions and other general medical needs that arise in unforeseen situations.
Carbon Health Care is the perfect option when you need care on short notice and don't want to deal with ER wait times and costs.
Average visit time:
> 1 hour
Common Conditions We Treat
Abdominal pain

Asthma

Back pain

Cold / flu symptoms

Concussion

Red Eye/Conjunctivitis

Cut

Allergy Symptoms

Flu Shot

Contraception

Injury

Poison Ivy/Poison Oak
What is Emergency Care?
An emergency condition is a life-threatening condition that may require advanced treatment, such as a heart attack or stroke, a serious head injury, or other severe trauma.
If you have a life threatening injury or illness, immediately call 911 or proceed to your nearest Emergency Room.
Average visit time:
> 4.5 hours
Emergency Conditions
Altered Mental States
Seizures
Chest Pain or Pressure
Severe Abdominal Pain
Coughing/Vomiting Blood
Severe Allergic Reactions
Difficulty Breathing
Severe Bleeding
Drug Overdose/Poisoning
Severe Head/Spinal Injury
Loss of Vision
Pregnancy-related issues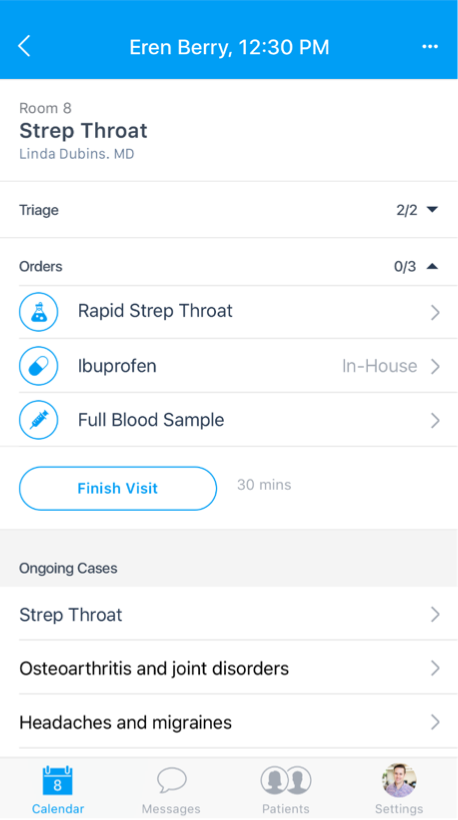 Fully integrated, comprehensive care 💪
Chat

Chat with doctors and staff for quick answers to your questions.

Calendar

Schedule a clinic visit or chat with doctors through the app.

Prescription delivery

Skip the pharmacy visit. Fill prescriptions easier than ever.

Billing

Transparent pricing. Upfront copays without hidden fees.
See what other patients are saying
Filter reviews by:
Super quick and easy. You schedule everything and answer all the preliminary questions on the app, so when you have your appointment you're in and out, no problem. Very modern and very efficient, definitely coming here from now on.

Christine V.

San Francisco, CA

Hella convenient and easy to get in and out. Short stroll in beautiful embarcaero area. I love the app and the wonderful group of women that run this soon to be thriving practice. Takes my insurance and pretty much covered everything I asked about... including a wide range of topics around women's health.

I came in for a cut after a biking accident and everyone was super friendly and helpful. I got the wound cleaned up, bandaged, and had a tetanus shot just to be safe. I really appreciate that the clinic was open until 8pm on weekends because we don't choose when we get hurt!
We're in the press